Flowruida electeomagnetic flowmeter is used in Sewage Plant for monitoring sewage flow, and successfully replaced the well-known brand saved tens of thousands RMB. Printing and dyeing manufacturers use Flowruida's electromagnetic water meter for quantitative control of water, in oder to better control the dye solution transport system.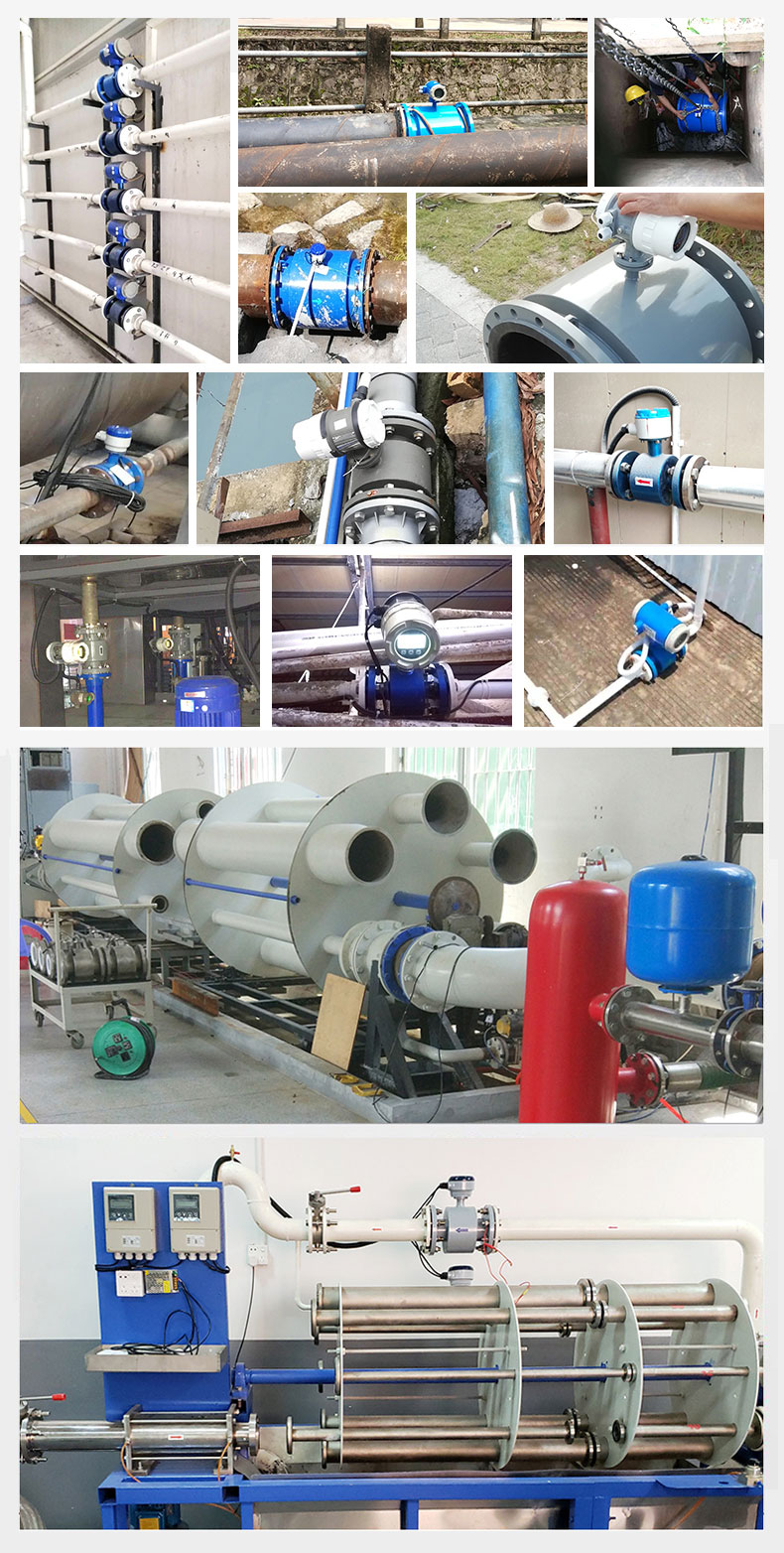 1.Technical parameters of Electromagnetic water meter
Product Name:

Electromagnetic water meter

Diameter:

DN6 ~ DN3000

Nominal pressure :

1.6Mpa (general) > 1.6-4.0mpa (customized)

Accuracy grade :

± 0.5%R(standard)

Protection grade:

IP65 (general), IP67/ IP68(custom)

Lining materials:

Polychloroprene rubber, polyurethane rubber, polyfluorinated silicone rubber, polytetraethylene (PDFE) polyperfluorinated ethylene (P46), PFA

Type of electrode:

Conventional electrode, removable electrode

Electrode material:

SUS316, Hartstein alloy B,Hartstein alloy C, titanium, tantalum, platinum/iridium alloy

Medium temperature:

One type :-20℃~ +70℃

separate type: polychloroprene rubber lining, polyurethane rubber lining,(-20℃~60℃)

PFA lining,F46 lining, polyfluorinated silicone rubber lining, polytetraethylene lining, (-20℃~150℃)

Structure:

One type, separate type

Output signal:

Pulse signal, 4~20mA signal

Power supply:

220V(conventional), 24V, 3.6V lithium battery

Communication mode:

RS485, HART Agreement, etc
2.Installation and use of Electromagnetic water meter
①It shall be installed at the lower and vertical upward position of horizontal pipeline, avoiding the installation at the highest point and vertical downward position of pipeline.
②It shall be installed at the rising position of the pipeline.
③In the open discharge pipe installation, should be installed in the lower part of the pipe.
④If the pipe drop is more than 5m, the exhaust valve shall be installed downstream of the sensor.
⑤The sensor must not be installed at the inlet of the pump, it should be installed at the outlet of the pump.
⑥There should be at least 10 * D (D is the inner diameter of the flowmeter) length of straight pipe in front of the flowmeter, and 5 * D length of straight pipe in the rear.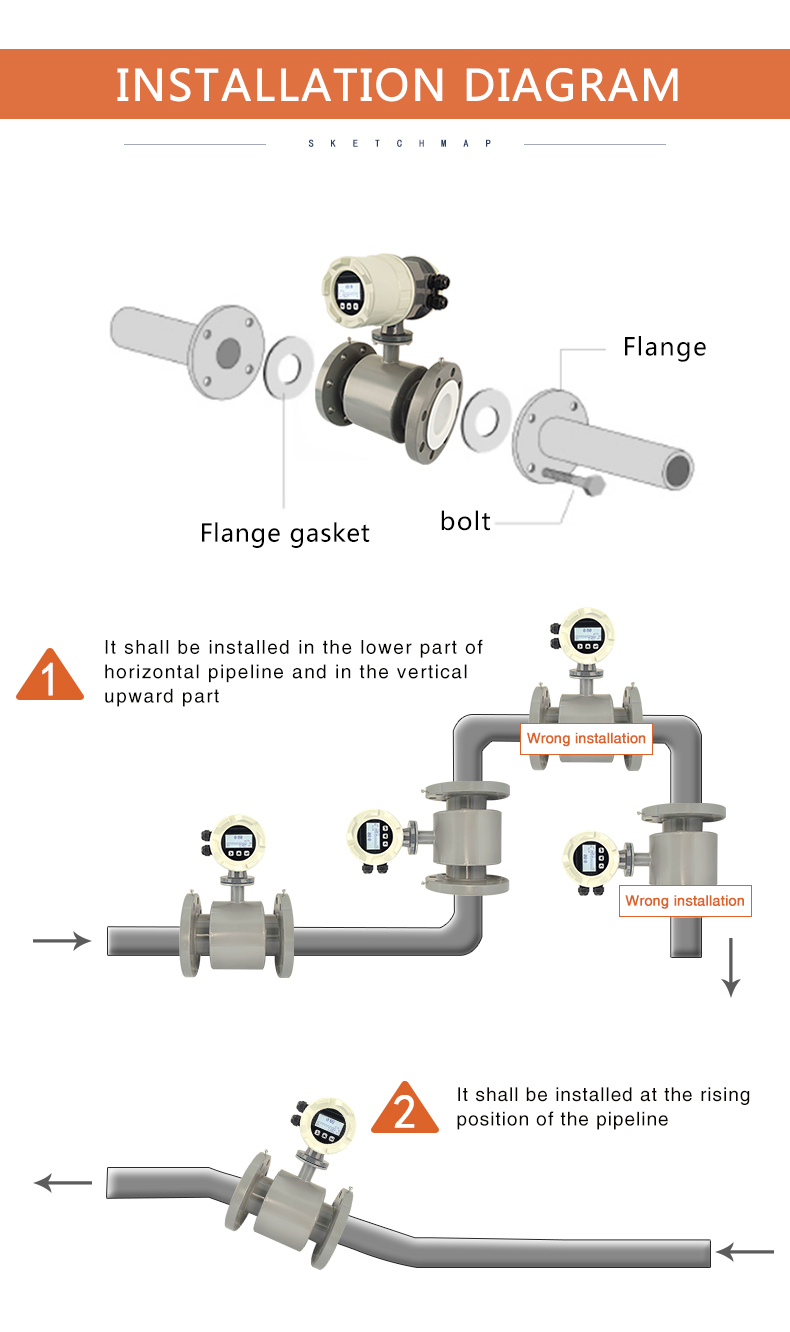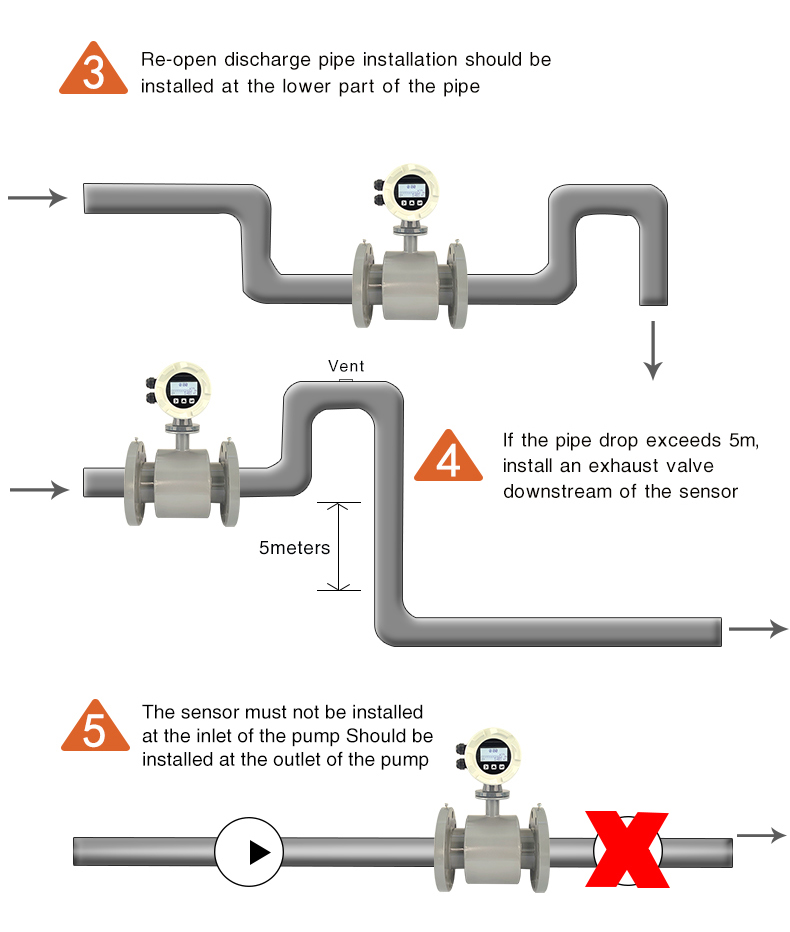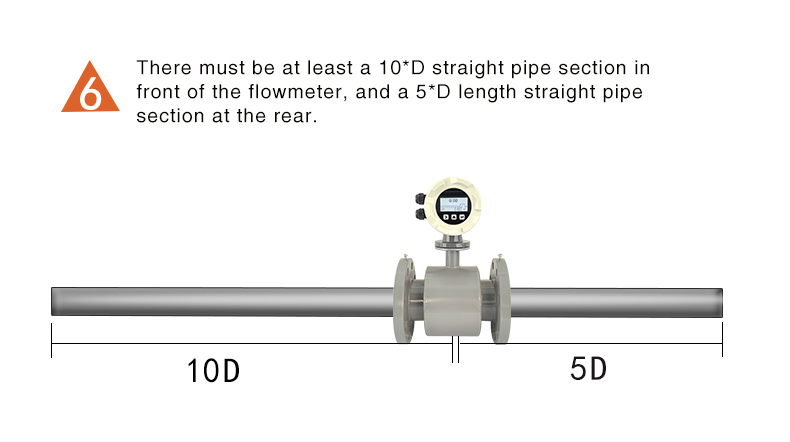 3.Demonstration of Electromagnetic water meter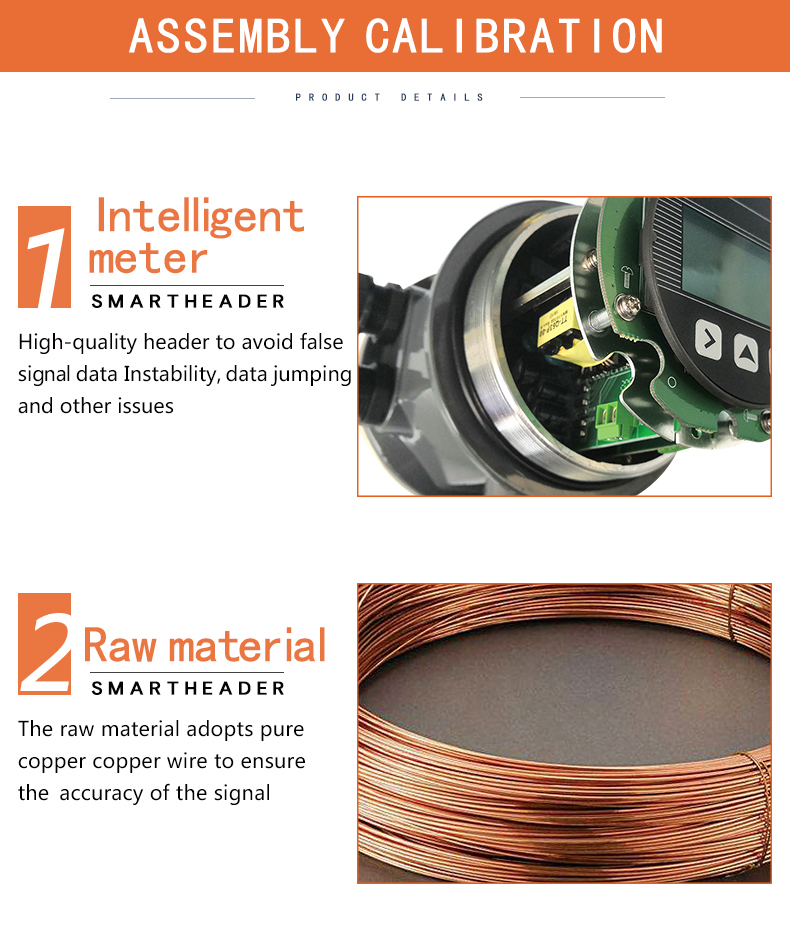 ①core element:Imported measurement chip, measurement accuracy up to 0.5 level, effective filter clutter interference.
②High quality waterproof meter head:Aging resistance, high protection, protect the internal circuit, can adapt to the site of more severe conditions.
③The lining can prevent falling off, flanging and water leakage, so as to improve the reliability of the instrument.
4.Packing and shipping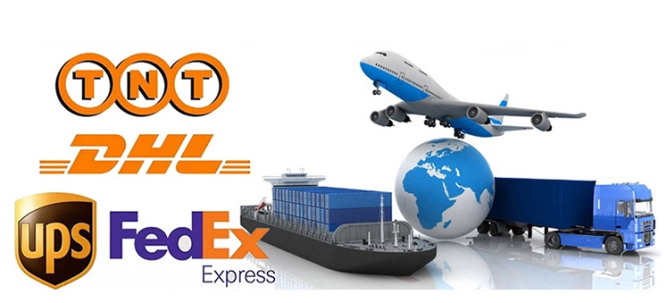 After-sales service: If you have any questions, please feel free to contact us.
5.FAQ
Q1. Are you a manufacturer? Do you have a factory?
A: We are a professional manufacturer for more than 20 years and we have factories. You can see pictures of our factory.
Q2. Can I get samples for free? Is free shipping possible?
A: Yes, we can give you free samples after talking and confirming all the details. But we do not provide free delivery service,
If you buy a lot of products, we will give you some discounts.
Q3. Could I visit your factory?
A:Of course, if you need we will help you to visit our factory.
Q4. What is the delivery time?
A: According to the size and quantity, the delivery time is usually 5~10 days. When we know the product details, we can tell you the exact delivery time
Hot Tags: